Cell-Level Healing: Where Science and Spirit Meet
"The inner mystery of how the magnificent body repairs and renews at the cellular level can be appreciated through ever expanding scientific knowledge and personal experience. Vitality and health are renewed and profound healing is possible as cell and soul connect."
— Joyce Hawkes, PhD
Joyce Hawkes, the founder of Cell-Level Healing, is an internationally respected scientist, author, healing facilitator, and teacher. She and her associates are available to assist you to begin or deepen your own journey to new levels of physical, mental, emotional, and spiritual health.
The Cell-Level Healing Team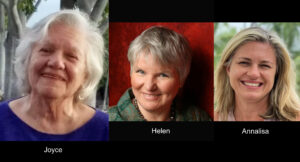 Dr. Joyce Hawkes, PhD
Helen Folsom, MA
Annalisa Jacobson, BA
See Joyce on Season 1, Episode 6 of UnXplained with host William Shatner
on Netflix and the History Channel.
Check out her interviews with Jeffrey Mishlove on New Thinking Allowed Channel
Join Our List For a handful of key updates each year.
Disclaimer: Thank you for visiting the Cell-Level Healing website. This website is intended to provide general information about our services. Great care has been taken to make the information as accurate and appropriate as possible, but no assurances can be given about this. Please note that alternative and complimentary practices are not intended as an alternative to or replacement for allopathic medical diagnosis and treatment, and should not be construed as such. We do not diagnose disease or prescribe medicine. We always encourage clients to consult with their medical practitioners or other professional healthcare providers. While alternative and complimentary practices may contribute to a positive change for the client, choices about course of action and any resulting changes remain the personal and legal responsibility of the client.