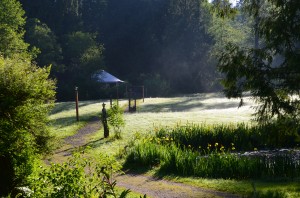 Mosswood Hollow, Duval, WA
Advanced Cell-Level Healing Retreat – The Bond Effect
July 31 – Aug 4, 2017
Join Joyce Hawkes and Helen Folsom for a joyful reunion and a continuing exploration of your natural ability to heal and be healed. During our time at Mosswood Hollow we become a bonded community of healers. This, we feel, is due to the uniqueness of the setting, and the resonance of those who choose to be here.
Prerequisite: To attend you must have studied with us previously somewhere in the world or online.   
As we sit together, eat together, listen to one another, sing, and even as we stay up late laughing, we follow in the footsteps of those who have chosen the path of healing and service to humanity. Learn to go more deeply within, to journey for understanding, and to practice the healing arts with great compassion and love. Immerse yourself in the latest methods and practices that we have uncovered in our travels. Share your own experiences of healing.
Retreat Cost: $450
These retreats fill quickly, and space is limited. A non-refundable deposit if $125 will hold your place. Remaining $325 to be paid by June 30, 2017. Use the PayPal link below to get started.