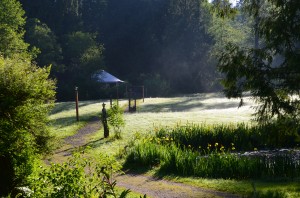 Mosswood Hollow, Duval, WA
Advanced Cell-Level Healing Retreat – Transform Me!
Noon July 30 -through- Lunch Aug 3, 2018
Join Joyce Hawkes and Helen Folsom for a joyful reunion and a continuing exploration of your natural ability to heal and be healed. During our time at Mosswood Hollow we become a bonded community of healers. This transformation is aided by the uniqueness of the setting, and the resonance of those who are called by the heart and invited to be here.
Prerequisite: To attend you must have studied with us previously somewhere in the world or online. For 2018 participation is by invitation only. Please click here if you wish to be considered to join us this year. Please include your phone number.
We are following in the footsteps of those who have chosen the path of healing and service to humanity. Here we learn to go more deeply within, to journey within for understanding, and to practice the healing arts with great compassion and love. Immerse yourself in the latest methods and practices that we have uncovered in our travels and in our work with private clients. Share your own experiences of healing, renewal, and transformation.
Retreat Cost: $450
Space is limited. A non-refundable deposit if $125 holds your place. Remaining $325 to be paid by June 30, 2018. Room and board are paid separately to our Mosswood hosts at the end of the retreat.
Feedback from Mosswood Hollow Retreat Participants
"I am missing you . . . but feel so renewed. So grateful for your sharing and gifts. I look so forward to allowing everything to unfold."
R.H. – New York City
Most of my in-depth experience has been with men — athletic teams, the military, and my aviation career. Yet somewhat paradoxically, seems the most important spiritual things have been learned from women in my life.. . .
Joyce's and Helen's teaching and our week together at Mosswood supported that for me. We cultivated the body with yoga and interpretative dance, the mind with emotional expression and increased conceptual understanding, and spirit with opportunities for Mahamudra-like meditation. We expanded our capacity for Truth, Goodness and Beauty in the subjective with meditation, in the intersubjective with our interpersonal healing exercises and conversation, and we expanded our objective understand from Joyce's background in science.
All in all, it was a great week! When I left Mosswood I did not see it as a completion but as a new beginning.
J.B. – Idaho